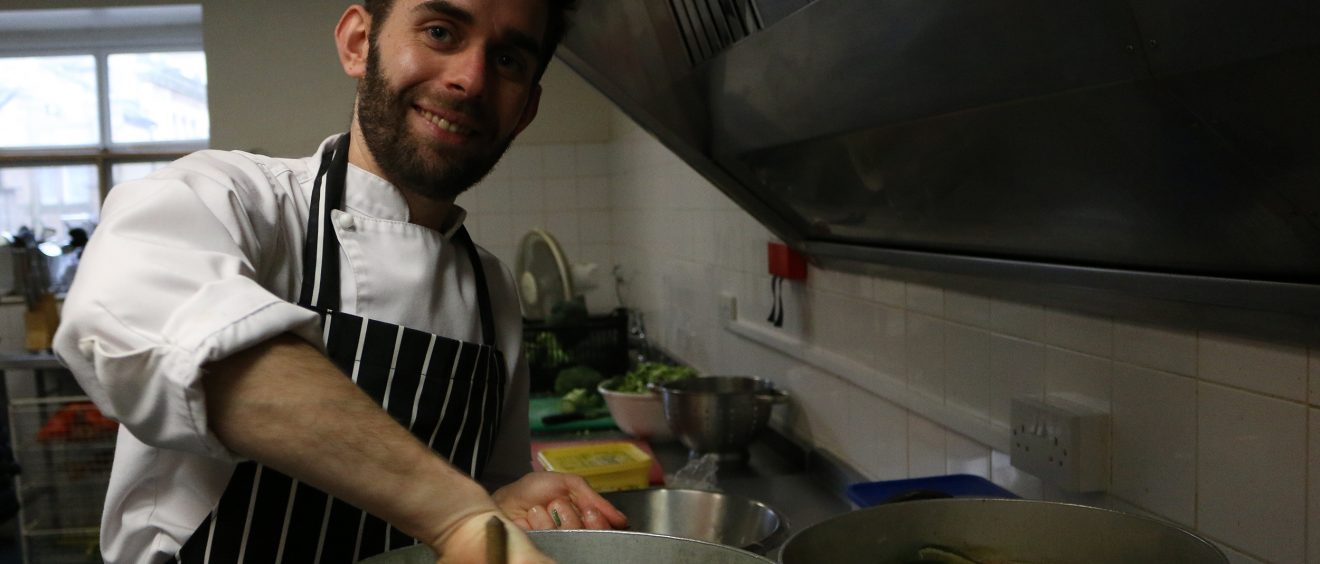 Our soup making story for SOUP #1
My name is Rory and I am one of the organisers at Mossley SOUP. I am a resident of Mossley and although I've spent a number of years travelling I still call this part of the world my home. By day I work as a Chef at the Old Bell Inn in Delph. I have always wanted to be part of a charitable organisation and when I was approached to help bring Detroit SOUP's grass roots crowdfunding initiative to Mossley it was only natural for me to don my whites and prepare the soups for the event.
Myself and David, one of the chefs at Emmaus Mossley, met up prior to the first Mossley SOUP event to decide what soups to prepare. With a little help from our online survey we decided on the three most popular – Broccoli & Stilton, Pea & Ham and Italian tomato.
One of our aims was to try and source all of the ingredients from local suppliers furthering our support for the local community. Failing that, from FareShare Greater Manchester, who redistribute surplus supermarket food to charitable causes. We received great support from A Taylor & Son Family Butchers who donated two of their finest ham hocks and some lovely back bacon, J W Buckley Ltd Bakery in Uppermill who donated one hundred freshly baked muffins and also two other local suppliers (that wish to remain anonymous) who donated Stilton cheese and vegetables.
One of the ideas suggested in conversation with some of my fellow Mossley SOUPers  was to introduce some additional items that could be served with the soup – a 'pimp-my-soup' of sorts. We decided we'd go with herb croutons, crispy bacon bits and a nutmeg and parmesan reduction. All of which went down very well on the evening, I found out the hard way as by the time I got round to having a bowl they'd all been devoured.
We had initially planned on making three soups on the day, but with the nature of FareShare, Steve and Pete (two Mossley SOUP organisers) returned with an extra 10 kg bag of surplus carrots. David and I got to thinking and decided to use the carrots to produce an extra soup, just in case. We decided on something a little different and went with a spicy Carrot & Orange soup, which went surprisingly well.
On the night, the soups went down a treat and it was great to hear so much positive feedback. The Mossley SOUP supporters consumed 40 litres of locally sourced soup, with the majority of ingredients provided by local businesses. This is what Mossley SOUP is all about, making connections in the community, showing everyone what Mossley has to offer and at the end of a great evening one of our local community groups gets funding for a brilliant project. I for one was very proud to be part of the first Mossley SOUP event.
Finally I would like to thank David, my fellow Mossley SOUP chef, and all the suppliers who very generously donated the ingredients we needed. Here's hoping our next dinner is equally, if not more successful than the first. If the next Mossley SOUP falls just after harvest time it would be great to have all the produce grown in Mossley. Fancy like growing some ingredients for our next dinner? Please do get in touch.
Thanks for reading and hope to see you at a future SOUP event,
Rory