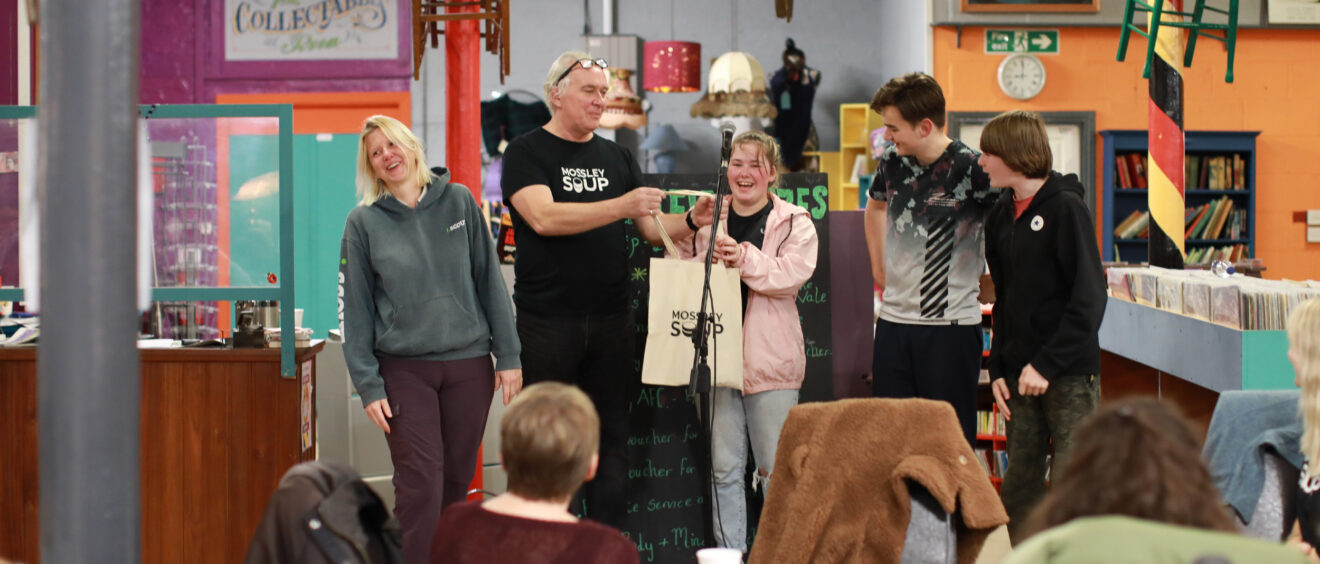 George's Den bags funds at Mossley SOUP #11
SOUP. IS. BACK.
Mossley SOUP has made a successful return with our eleventh community crowdfunding event raising £1,326 for the winning project, George's Den.
On Thursday 28 October, we welcomed just over 100 diners to Emmaus Mossley for our eleventh event, sponsored by Tameside Rotary. Diners donated £5 each in return for soup, entertainment, presentations from four local projects and a vote for their favourite project.
After spoken word poetry from Leon The Pig Farmer, Mossley SOUP master of ceremonies, Dave Jones, welcomed diners to the event with a light-hearted round-up of Mossley news. Four project presenters followed, each having four minutes each to share their idea followed by four questions from the audience.
The first project to present was 'Houston, We Have A Poo-blem!' – a campaign against dog poo bags littering local green spaces. Next up was 'Remembrance Clay Poppy Workshop', a project to create clay poppies to put towards a public remembrance display.
The third project to present was 'Mum's Wellbeing Group' supporting new mums facing social isolation. The final project was 'George's Den' – a project to create a new recreational space for young people at Baden House.
After the projects were presented, diners cast their votes before the votes were counted and the winner was announced. George's Den presented by the 1st Mossley Scout Group secured the most votes, taking home all of the funds to kick-start their project.
Tanya Roberts, Group Scout Leader, said:
"Thursday night, for us, was yet again, a reminder the support we have as a Scout Group from the Mossley community. We are powered by our memories of George, and committed to making a difference in his name, and the support of the 'SOUPers' has meant that our plans will become a reality."
Logan Green, Explorer, added:
"The money is a huge step towards our goal, we are extremely grateful."
1st Mossley Scout Group plans to transform a space at their Baden House base, in memory of George Butterworth-Sice. George was a Beaver, Cub and Scout, before he tragically died just before his 14th birthday this summer.
Noah McDonald, Explorer, said:
"It feels strange not having George around, but this money is just the first step in many new ways to keep his memory alive."
Libby Harris, Explorer, commented:
"The funds we raised at Mossley SOUP are a huge step in making George's Den real. Even if George himself can't be here, we will. We'll make the youth of Mossley as happy as George made us."
As well as entrance donations and £150 donated by Tameside Rotary, the winner's pot included funds raised from a raffle. Prizes were kindly donated by Alphin Cycles, Body & Mind Therapy Centre, Donkeystone Brewery, Mossley AFC, Photography By Cara Jane, Scona Café, Suki's Wardrobe and The Vale.
Four freshly made soups were prepared by local volunteers Lesley Arnold, Rory Callaghan and David Garside. Soup ingredients and bread was donated by greengrocers R Noone & Son, Pattisons Butchers and The Allotment Cafe.
Project ideas are being sought from individuals, artists, community groups, charities and businesses for the next SOUP event on 17 February 2022.
---
If you attended the event please take a minute to complete our short feedback survey.