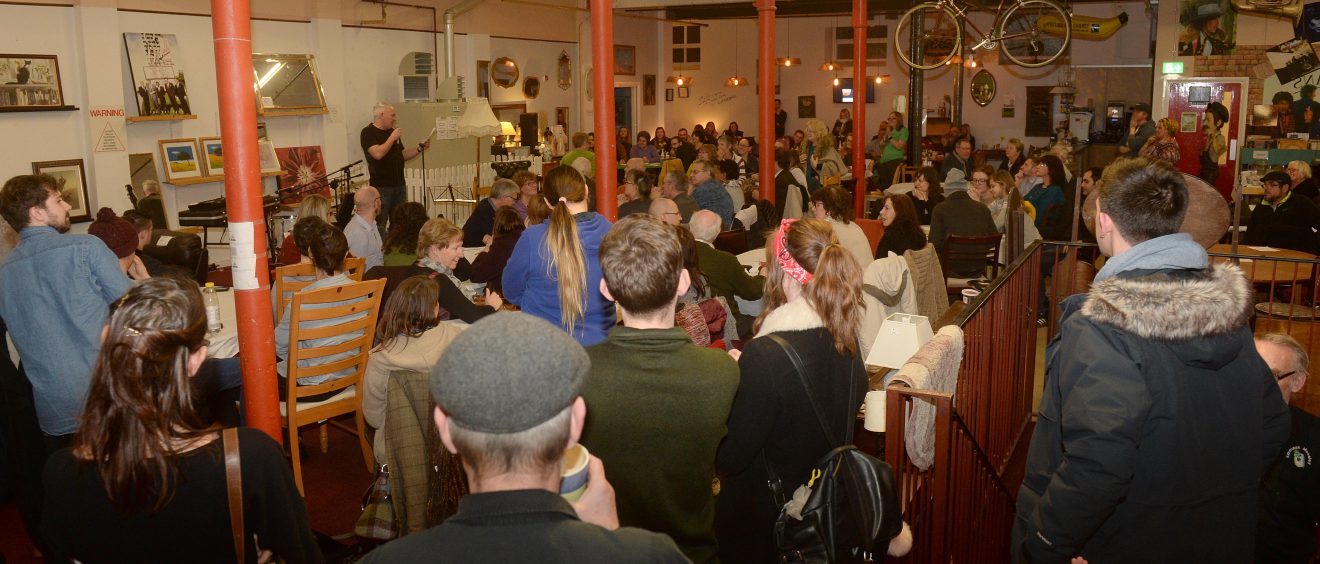 Mossley SOUP #1 raises £670
A SOUPer evening for Mossley.
Our first Mossley SOUP community crowdfunding dinner went down a treat and it seems the Mossley community are hungry for more.
The dinner was held on Thursday 2 March at Longlands Mill, home to Emmaus Mossley. More than 130 attendees donated at least £5 each to enjoy soup, local band Night Host and hear four project ideas to benefit the community. Audience members then voted on their favourite project to take home all the money raised on the door.
Winner Christine Frost, who presented Mossley Community Centre's Annual Horticultural Show, was delighted to receive the most votes on the night and take home £670. Christine said:
"The night was a fantastic event, a chance to meet other community groups and a really great opportunity to get our message across to a wide cross-section of the community. We are overwhelmed by the actual amount raised. The money will ensure that the fifth Mossley Horticultural Show is the best one yet and will reach even more people. A huge thank you to the organisers, volunteers and the wonderful companions at Emmaus."
Fellow presenters included Nichola Roberts from Mossley Dog Rescue, Colin Radcliffe presenting his DE-press-ON App for people suffering from depression, and Rebecca Jones from Friends of Mossley Park with their Cutting Hedge project. Each presenter had four minutes to share their idea followed by four questions from the audience. Mayor of Mossley, Councillor Greg Brett, commented:
"The event was a huge success and it was great that so many Mossley people got involved and supported the first Mossley SOUP dinner. All four presenters did extremely well in front of a large crowd and their enthusiasm for their projects shone through. It just goes to show what Mossley can achieve through people power!"
Mossley SOUP is organised by local resident volunteers with support from Mossley Town Council, The Mayor of Mossley and Emmaus Mossley. We were originally aiming to attract at least 100 diners to the event and raise £500 for the winning project.
Rory Callaghan, Mossley resident and member of the Mossley SOUP organising group, took a day off work as chef at The Old Bell in Delph to help prepare the soups for the event. Rory added:
"The first Mossley SOUP went very well and exceeded our expectations. We would like to thank all who attended and made it such a special event. I would also like to give special thanks to A Taylor & Son Family Butchers for the donation of meat, JW Buckley Ltd bakery in Uppermill for the donation of bread and two other local suppliers who wished to remain anonymous for their kind donations of stilton and vegetables."
We are currently evaluating the first event before deciding on a date for the next dinner. All being well we should have a date for the next event before the end of March. It is anticipated there will be at least one other Mossley SOUP dinner this year and more to come in 2018.