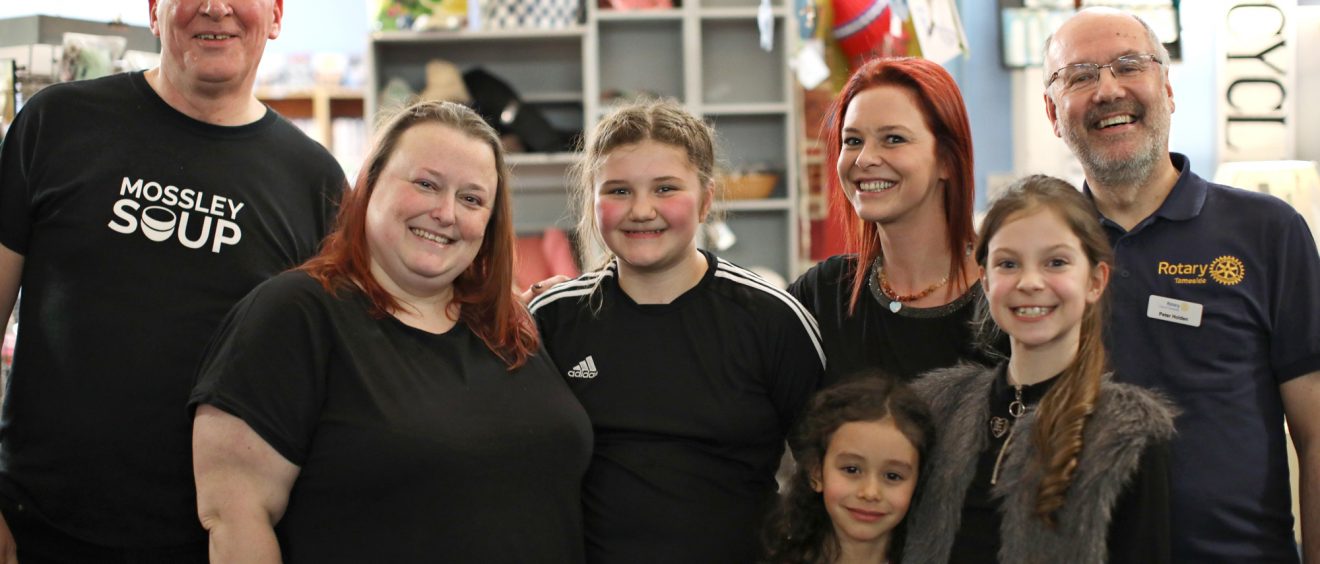 Mossley SOUP celebrates 10th event in style
Thank you SOUPers!
Attendees at the latest Mossley SOUP community crowdfunding dinner celebrated the tenth event by raising £1,346 for the winning project.
On Thursday 27 February, Mossley SOUP organisers welcomed more than 170 diners to Emmaus Mossley for their tenth event, sponsored by Tameside Rotary. Diners donated £5 each in return for soup, entertainment, presentations from four local projects and a vote for their favourite project.
The project that secured the most votes on the night was Mini Meditators AN, helping children and young people with additional needs and disabilities. Through meditation and social interaction, the group aims to give children coping strategies for daily life. Lindsey Tweed from Mini Meditators AN, said:
"Winning Mossley SOUP was fantastic. It was a brilliant night and was really nice to see how many people support us. We can now start new classes, to help more families, whilst also providing more sensory equipment to enhance our sessions. We couldn't have done it without all of our support and thank everyone who voted for us on the night."
Along with Mini Meditators, the three other projects appealing for support were Knitting and Crochet Lessons, Incredible Plastic Street Band: Let's Play and Secure Our Spaces in Mossley.
Project presenters had four minutes each to share their idea followed by four questions from the audience. In addition to the four project presentations, Mossley SOUP diners enjoyed live music and spoken word from Monologue John Bartley.
As well as entrance donations and £150 donated by Tameside Rotary , the winner's pot included funds raised from a raffle with prizes donated by Body & Mind Therapy Centre, Doodle Pots, Donkeystone Brewery, The Gillery, Grail Distillery and The Railway Fish & Chips.
Four freshly made soups were prepared by local volunteers Gordon Collinge, Lesley Arnold and Rory Callaghan from The Allotment Cafe. Soup ingredients and bread was donated by A Taylor & Son Family Butchers, JW Buckley's Bakery and greengrocers R Noone & Son.
Over ten events, Mossley SOUP attendees and supporters have raised more than £10k for local projects and initiatives. Project ideas are being sought from individuals, artists, community groups, charities and businesses for the next Mossley SOUP event on 18 June 2020.
---
If you attended the event please take a minute to complete our short feedback survey.