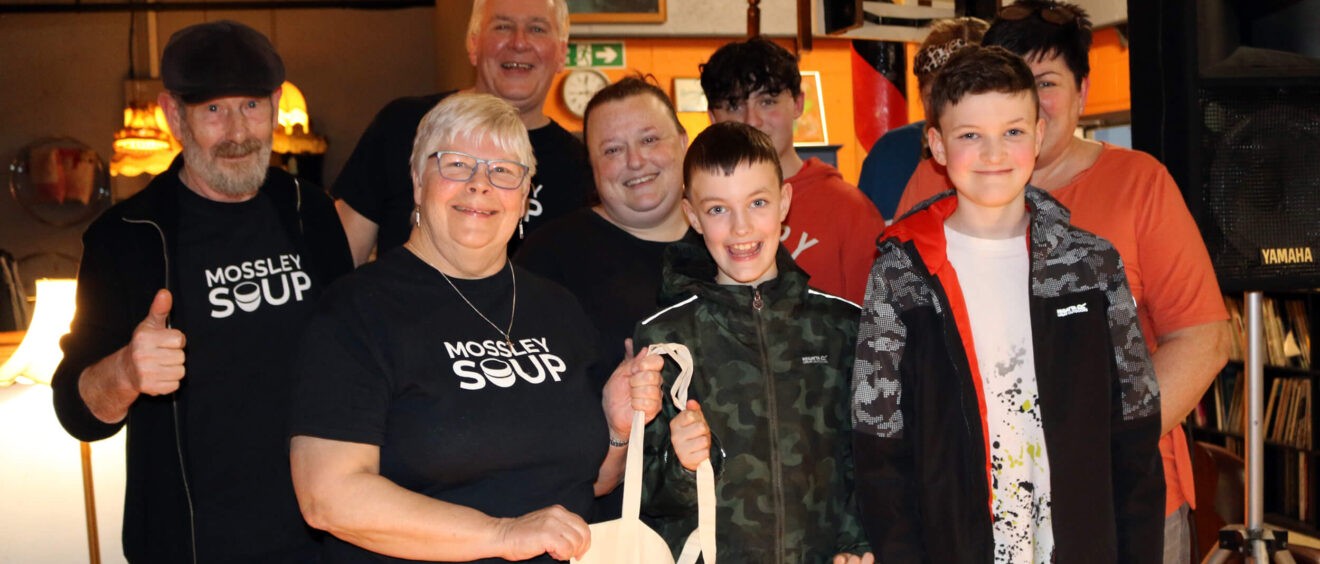 S.P.E.L.L. success at Mossley SOUP #12
Five years of Mossley SOUP!
S.P.E.L.L. Youthclub secured the most votes at Mossley SOUP #12, bagging £1,447 raised on the night.
On Thursday 17 March, we welcomed more than 140 diners to Emmaus Mossley for our twelfth event, sponsored by Premier Automotive. Diners donated £5 each in return for soup, entertainment, presentations from four local projects and a vote.
Live music welcomed diners as they took their seats and enjoyed freshly made soup and bread. Our resident MC, Dave Jones, welcomed diners and paid tribute to the town's response to people affected by the invasion of Ukraine. Four project presenters followed, each having four minutes each to share their idea followed by four questions from the audience.
The projects were Access All Areas presented by members of Mossley Community Centre, Lifeline Community Ambulance presented by John Gilmore, Painting the Town presented by Mossley Town Team and pupils from Mossley Hollins High School, and S.P.E.L.L. Youthclub presented by Lindsey Tweed from Mossley Youthbase.
After the presentations, diners cast their votes and enjoyed a live piano performance by Brian Rothwell. Before the winning project was announced, Tanya Roberts from George's Den, winners of the last Mossley SOUP, gave an update on how the project had progressed.
Lindsey Tweed, presenter of S.P.E.L.L. Youthclub, said:
"We are thrilled to have secured this money for our young people. It means so much to them and they have already started planning what they want to buy. It will be used for outdoor equipment so we can make the most of the garden."
As well as entrance donations and £200 donated by Premier Automotive, the winner's pot included funds raised from a raffle. Prizes were kindly donated by Bettie's Pets, Donkeystone Brewery, Mossley AFC, Salsa Beauty Rooms, Scona Café, Suki's Wardrobe and The Railway Fish & Chips.
Four freshly made soups were prepared by local volunteers Lesley Arnold, Darren Bateman and Dave Curtis. Soup ingredients and bread was donated by A Taylor Family Butchers, greengrocers R Noone & Son, Pattisons Butchers.
Dave Jones, Mossley SOUP volunteer and MC, said:
"This twelfth event was a brilliant way to mark our fifth anniversary and the Mossley community did us proud with a fantastic turn out. We had four fantastic presentations and a very worthy winner in S.P.E.L.L. I love presenting this event and being part of a truly unique way of a community giving to itself. Roll on Mossley SOUP 13!"
Project ideas are being sought from individuals, artists, community groups, charities and businesses for the next SOUP event.
---
If you attended this event please take a minute to complete our short feedback survey.