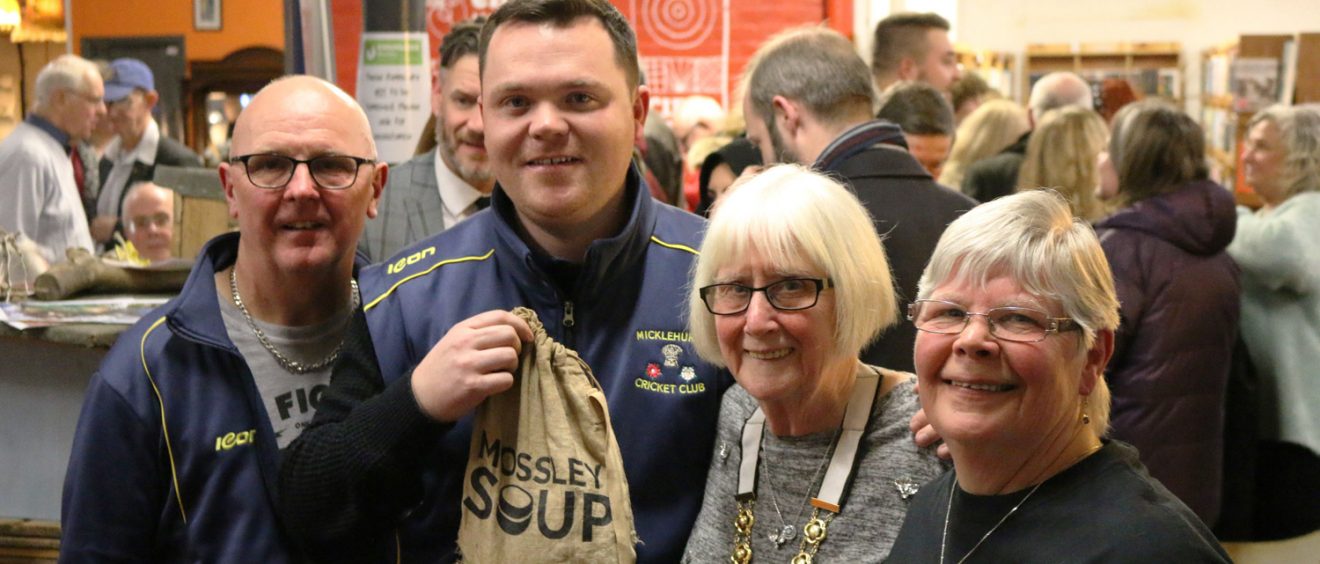 Super turnout at SOUP #7
Our busiest yet!

On Thursday 7 February, more than 220 diners packed in to Emmaus Mossley for the seventh Mossley SOUP event, this time sponsored by Tameside Rotary. The group that secured the most votes on the night was Micklehurst Cricket Club who were pitching for support for their Junior section.
Jonathan Forrester from Micklehurst Cricket Club said:
"It was great to have been invited to present at Mossley SOUP. Everybody involved needs praise for what they are doing.

"When I was asked to present for Micklethurst Cricket Club I was a bit apprehensive but I really needn't have been. On the night the money raised could have gone to any one of the four groups and I'm sure nobody would have complained.

"For us, these funds will allow us to compete with other local clubs with the juniors and hopefully ensure cricket is played up at Micklehurst Cricket Club for many years to come."
Micklehurst Cricket Club secured the most votes, taking back to the club £1,726 – a record amount raised at a Mossley SOUP event. Along with Micklehurst Cricket Club Junior Section, the three other projects appealing for support were Ethical Education Enterprise CIC, Milton Forest School Cabin and Mossley Heritage.
Diners donated £5 each in return for soup, live music, presentations from four local projects and a vote for their favourite project. Each of the four project presenters had four minutes to share their idea, followed by four questions from the audience.
Along with entrance donations and £100 donated by Tameside Rotary, the winner's pot included funds raised through a raffle with prizes donated by Alan & Vivs English Fish & Chips, Body & Mind Therapy Centre, Dinnerstones, Donkeystone Brewery and The Pet Care Company.
Four freshly made soups were prepared by local volunteers Rory Callaghan from The Allotment Cafe and Gordon Collinge with ingredients and bread donated A Taylor & Son Family Butchers, local vegetable suppliers Diane and Neil and JW Buckley's Bakery. A selection of cakes and sweet treats were also donated by volunteers and Mossley SOUP diners.
In addition to the four project presentations, Mossley SOUP diners enjoyed live music and a guest talk from Michelle Phillips from Mossley Social Club for Disabled Adults, winner of the fifth Mossley SOUP.
Project ideas are being sought from individuals, artists, community groups, charities and new business start-ups for the next Mossley SOUP event in July 2019.