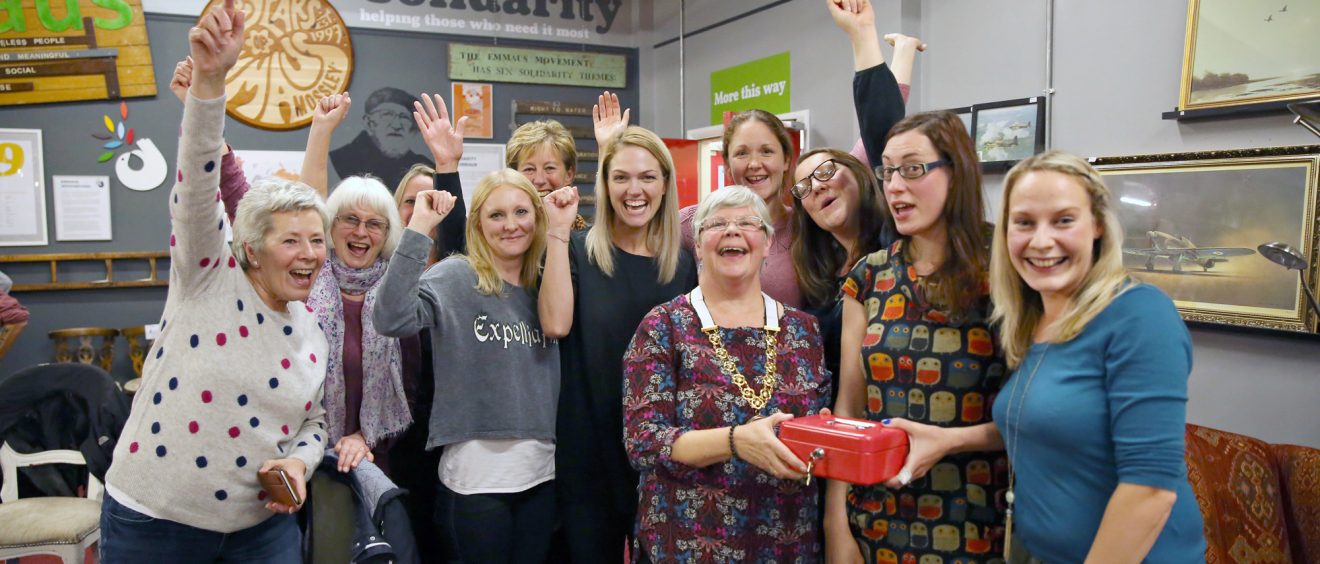 Tots R Us triumph at Mossley SOUP #3
Another SOUPer evening.
Tots R Us Playgroup have triumphed at the third Mossley SOUP event, gaining the most votes and walking away with £639 on the night.
On Thursday 19 October, we hosted the third Mossley SOUP community crowdfunding dinner at Longlands Mill. More than 110 guests attending the event, donating a minimum of £5 each in return for soup, entertainment and a vote for one of four local projects.
Cara Schofield, one of the presenters of Tots R Us Playgroup, Mossley, said:
"We're delighted to have won the third SOUP event! We were up against some serious competition so we're thrilled that the community got behind us and recognised what a huge impact groups like ours have on both the children and adults that attend. Thanks to everyone who came along and voted and to Emmaus for hosting such a brilliant event."
Fellow presenters included Lesley Arnold from Friends of Egmont Street, Lesley Bill and Greg Brett from Mossley Whit Friday Brass Band, and Mark Woodhead from Micklehurst Cricket Club. Each of the four project presenters had four minutes to share their idea followed by four questions from the audience.
In addition to the four project presentations, Mossley SOUP diners enjoyed live music from singer and guitarist, Phil Middleton, and a guest talk by Chris Frost from Mossley Horticultural Show, winner of the first Mossley SOUP event back in March.
Mayor of Mossley, Councillor Chris Lyness, said:
"These SOUP events are a great example of Mossley's fantastic community spirit. Congratulations to the Tots R Us team on their win and very well done to the presenters of all the groups represented at Mossley SOUP 3. Thank you to all attendees, volunteers and supporters for making it another fun evening in aid of some very worthy causes."
All of the soup and cakes for the third Mossley SOUP dinner were prepared by local volunteers and companions of Emmaus Mossley. Ingredients were donated by local vegetable suppliers, Diane and Neil, and Booker Wholesale.
Mossley SOUP is organised by a team of local volunteers with support from Mossley Town Council, The Mayor of Mossley and Emmaus Mossley. The organising group is currently compiling feedback from this event we hope to host another crowdfunding dinner in early 2018.